Inspiration
fredag, 28 oktober 2011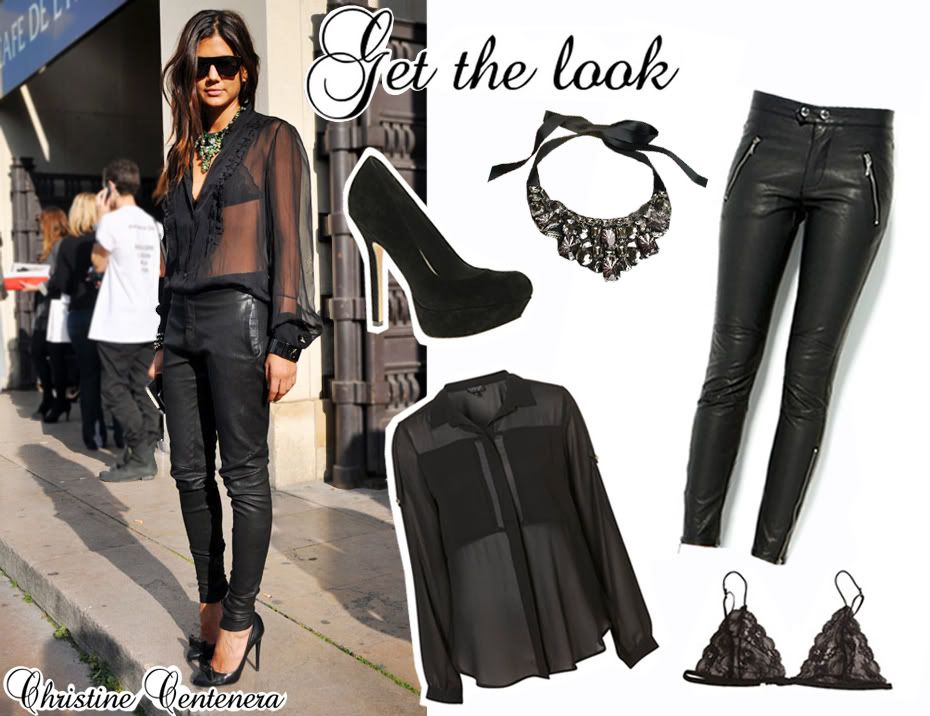 Links: leather pants/Bubbleroom, sheer black shirt/Topshop, black pumps/ASOS, statement necklace/ebay,  triangle bra/Forrest & Bob
Et af mine store stilikoner er Christine Centenera, som er moderedaktør på Harper's Bazaar Australia. Hun ser altid godt ud og har en meget alsidig og anderledes stil.
Dette outfit er et af de mere hverdags-agtige af slagsen, men også et af dem der er nemme at efterligne med noget hjemme fra skabet! Jeg elsker hvordan hun har kombineret rå læderbukser med en feminin, gennemsigtig skjorte og en blonde bh – Perfektion! Jeg har prøvet at finde nogle alternativer på budget! Regner selv med at skulle have fingre i bukserne!
Christine Centenera is a huge style icon to me. I simply love her style and the way she combines her clothes in different ways. This outfit is more everyday like, however, easier to imitate! I just love the way that she's combined raw leather pants with a feminine, sheer shirt and a lace bra, perfection!
Topshop?
fredag, 23 juli 2010
Gad vide hvem der fandt på dem først? :) De ligner ihvertfald hinanden til forveksling!
Skoene fra Ebay
koster ca. 300 kr. inkl. porto og fås også i beige og dem fra Topshop koster sådan ca. det dobbelte. Du vælger selv!
I wonder who got the idea for the creation of these wedges? :) Anyway they're pretty similar.
The ones from Ebay
cost £27 and are also available in beige and the ones from Topshop cost approx. double up. You choose!
Copycat
mandag, 17 maj 2010
Jeg har før skrevet om kjolen til højre fra
Rützou
og da jeg var forbi
Topshops hjemmeside
tidligere, stødte jeg på denne fine sag der minder en del om Rützous version. Så vil du have stilen, kan den købes for ca. 350 kr. Forestil jer hvor fin den ville være her til sommer, når man (forhåbentlig) får lidt farve!
I've before made a post about the stunning dress from
Rützou
and when I earlier today stopped by
Topshop's homepage
, I stumbled upon this fine dress that are quite similiar to the one Rüzou has made. So if you wanna get the look it can become yours for £40.
Acne?
lørdag, 24 april 2010
Faldt over den stribede kjole til venstre på
Asos
forleden. Gad vide hvor de har fået inspiration fra? Mærket hedder Full Circle og den koster ca. 445 kr.
I stumbled upon the dress in the left image at
Asos
the other day. I wonder where they've got their inspiration from? The brand is Full Circle and costs £50.
Copycat
tirsdag, 23 marts 2010
De omtalte Miu Miu sko (øverst til højre) har været meget populære på diverse blogs. Jeg kan ikke helt finde ud af, hvad jeg synes om dem? Er de tudegrimme eller bare fantastisk flotte? Hvad synes I? Gina Tricot har produceret et par sokker i samme stil til bare 29 kr., som bloggeren Fifth Opinion har brugt i et par sandaler (nederste billede). Synes jeg egentlig er en meget sov detalje!
The controversial Miu Miu pumps has been very popular on various blogs. I can not quite figure out, what I think of them? Are they really ugly or just fabulous? What do you think? Gina Tricot has now produced a pair of socks in the same style which the blogger behind the blog "Fifth Opinion", wears in combination with her sandals (bottom picture) – a funny detail I think!
Copycat
mandag, 8 februar 2010
Til venstre – Asos's bud på Surface to Air sandalerne. Til højre – de originale Surface to Air sandaler. Et meget godt alternativ til 365 kr. Findes også i grå – køb dem
her
.
To the left – buckle sandals from Asos. To the right – the original Surface to Air sandals. A good alternative if you can't afford the original ones. Get them here.
jeans
mandag, 21 december 2009
Fede jeans i stil med dem modellen Karmen Pedaru har på på billederne ovenfor. Køb dem
her.
Cool jeans in the style of the ones the model Karmen Pedaru is wearing in the pictures above. Get them
here
.
Vila
søndag, 20 december 2009
Endnu engang et godt bevis på at highstreet "betaler" sig. Balmain til venstre og Vila til højre, som smukke Trine fra
Trineswardrobe
lige har købt.
Here is another example that it pays off buying highstreet. Left – Balmain, right – the Danish brand Vila.
Copycat
tirsdag, 8 december 2009
Synes faktisk ikke særlig godt om disse støvler, men kunne ikke lade være at falde over ligheden. Balenciagas (til venstre) og en kopi på Ebay (til højre) – svært at se forskellen ikke? Find dem
her
.
I don't really fancy these boots, but I couldn't help notice the similarity. Balenciaga's (left) and a copy found on Ebay (right) – It is hard to tell the difference right? Get them
here
.
sale
søndag, 6 december 2009
Se hvad jeg faldt over på Ebay. Den ligner jo den Kate Moss har på til forveksling. Så hvis I skal have fingre i den, skal I være hurtige – auktionen udløber om fem dage! Find den her.
I stumbled upon this cool jacket on Ebay. I think it looks very much like the one Kate Moss is wearing – it is hard to tell the difference. The auction ends in five days, so hurry up if you want to be the happy owner of this jacket. Get it here.
To the top