Category Archives: Style icon
inspiration
tirsdag, 5 november 2013
Jeg faldt lige over dette billede af fashionable Mary-Kate Olsen her til morgen iført en vintage Rolling Stones T-shirt! Oh my, den ser jo SÅ lækker ud i kombination med en glitrende statement halskæde og et par Raybans. Jeg ville ikke have noget i mod at hoppe i det outfit i dag :) Ved I tilfældigvis hvor man kan skaffe cool band t-shirts som denne? God dag, piger!
P.S. rygterne siger at de famøse Olsen tvillinger er ved at lancere deres egne parfumer, som kommer ud til januar.. spændende!
I just stumbled upon this inspiring pic of Mary-Kate Olsen this morning wearing a vintage Rolling Stones T-shirt! Oh my, it looks so good in combination with a glittery statement necklace and some Raybans! Wouldn't mind wearing that today. Do you know where to get cool band tees like this one? Have a great day, ladies!
(Photo credit: Olsen Anonymous)
Obsession
mandag, 16 september 2013
Jeg var lige forbi Gala Gonzalez og faldt pladask for hendes outfit (minus cigaret) af mærket "Finders Keepers"! Er det lige cool eller hvad? :) Desværre har jeg ikke kunne opstøve det på nettet. Er der tilfældigvis nogen af Jer, der har set det online et sted? I plejer at være mega seje til at finde bestemte ting på nettet! Jeg må eje det!! :)
I just stopped by Gala Gonzalez and totally fell in love with her outfit from "Finders Keepers"! Isn't it cool? :) Unfortunately, I haven't been able to find it on the internet anywhere. Have you guys seen it online somewhere? I really NEED it in my closet! :)
Nicoline
fredag, 19 april 2013
Sequin jacket/Julie Brandt, jacket/The Travelling Band, scarf/Stella McCartney (similar HERE), T-shirt/Zara, jeans/Zara, boots/Acne, watch/Michael Kors HERE
I onsdags var jeg som sagt sammen med min smukke veninde, Nicoline. I har mødt hende før her på bloggen både her og her. Nicoline har en super fed stil og i onsdags fik jeg overtalt hende til at få taget et par billeder :) Kunne I tænke jer også at se hendes garderobe? Jeg vil smutte igen – skal nemlig i byen i aften med selv samme pige og fire andre veninder ♥
Last Wednesday I met with my dear friend, Nicoline. She always looks like a million and I love her outfit in these pics – a perfect combination of casual daily wear spiced up with a cool sequin jacket. Would you like to see her wardrobe as well? :)
twins
tirsdag, 15 januar 2013
Jeg har altid været fascineret af Mary-Kates og Ashley Olsens stil. De har en lækker, rå stil med et tvist af noget boheme, som jeg synes er super cool og gennemført. De får alle looks til at se så "nemme" og afslappede ud og ligner altid en million.
I've always been facinated by Mary-Kate and Ashley Olsen's style. Their style is so cool, casual and raw with a twist of something bohemian. They always look like a million and manage to make all of their outfits look so "easy" and casual.
(photo credit: Olsen Anonymous)
Tuula
torsdag, 22 december 2011
Det er altid fedt at opdage nye blogs! I går aftes faldt jeg over bloggen "Tuula". Bloggeren bag hedder Jessica Maystein, er 23 år og har en super fed, alsidig og feminin stil. Ville ikke have noget i mod at eje den blomstrede nederdel på første billede eller den hvide blondebluse med bar ryg, suk! I er mere end velkomne til at smide et link, hvis I selv har en blog eller hvis I kender til andre fede blogs, som I vil dele!
I've just discovered a new blog, Tuula. The girl who runs the blog is called Jessica Maystein, is 23 years old and has a great sense of style. Her latest outfit posts has really caught my attention. Do you have any favorite blogs at the moment? Or do you have a blog yourself? Please share :)
Inspiration
fredag, 28 oktober 2011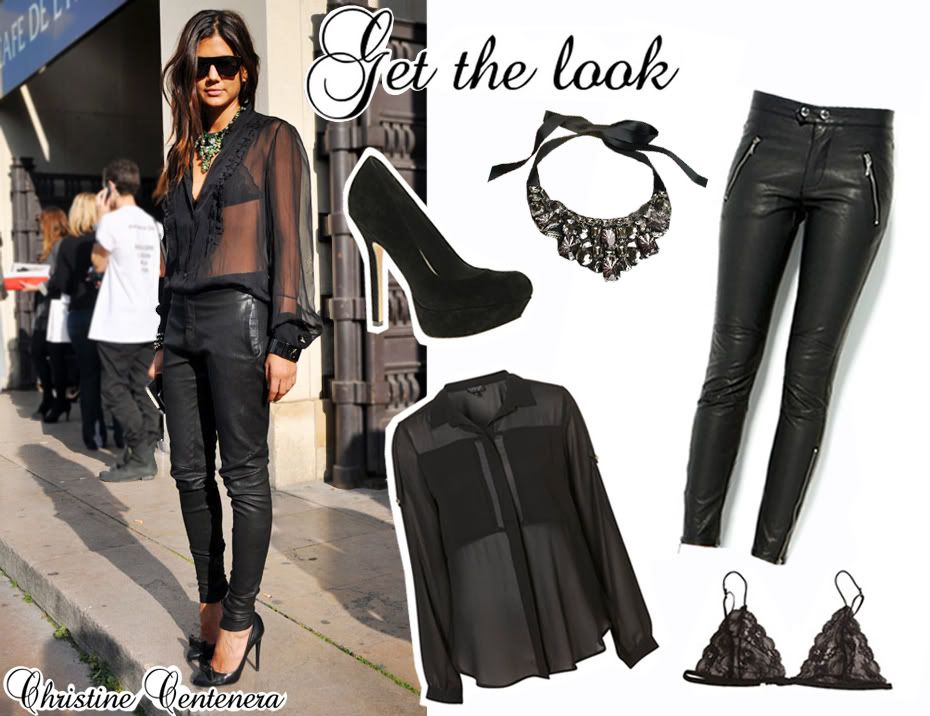 Links: leather pants/Bubbleroom, sheer black shirt/Topshop, black pumps/ASOS, statement necklace/ebay,  triangle bra/Forrest & Bob
Et af mine store stilikoner er Christine Centenera, som er moderedaktør på Harper's Bazaar Australia. Hun ser altid godt ud og har en meget alsidig og anderledes stil.
Dette outfit er et af de mere hverdags-agtige af slagsen, men også et af dem der er nemme at efterligne med noget hjemme fra skabet! Jeg elsker hvordan hun har kombineret rå læderbukser med en feminin, gennemsigtig skjorte og en blonde bh – Perfektion! Jeg har prøvet at finde nogle alternativer på budget! Regner selv med at skulle have fingre i bukserne!
Christine Centenera is a huge style icon to me. I simply love her style and the way she combines her clothes in different ways. This outfit is more everyday like, however, easier to imitate! I just love the way that she's combined raw leather pants with a feminine, sheer shirt and a lace bra, perfection!
Inspiration
lørdag, 15 oktober 2011
Links: Silk shirt/Topshop, dalmatian bag/Topshop, skirt/ebay, tassle loafer/ASOS, socks/Aymara (Youheshe).
Jeg er vild med Gala Gonzalez' outfit på dette billede! Kombinationen af blommefarvet og støvet grøn/turkis er bare super fedt! Jeg tror også, at jeg skal have fat i et par loafers – det er en god erstatning til ballerinaskoene! Jeg har prøvet at finde billige alternativer til hendes outfit og i denne kolde tid, ville jeg kombinere med et par uldne strømpebukser i stedet.
I'm really fond of Gala Gonzalez' outfit – the combination of plum and dusty green/turquoise looks really cool. I've tried to find some budget-friendly alternatives. I think, I have to get some loafers as well – it's a really good sustitute for ballerinas.
Inspiration
søndag, 31 juli 2011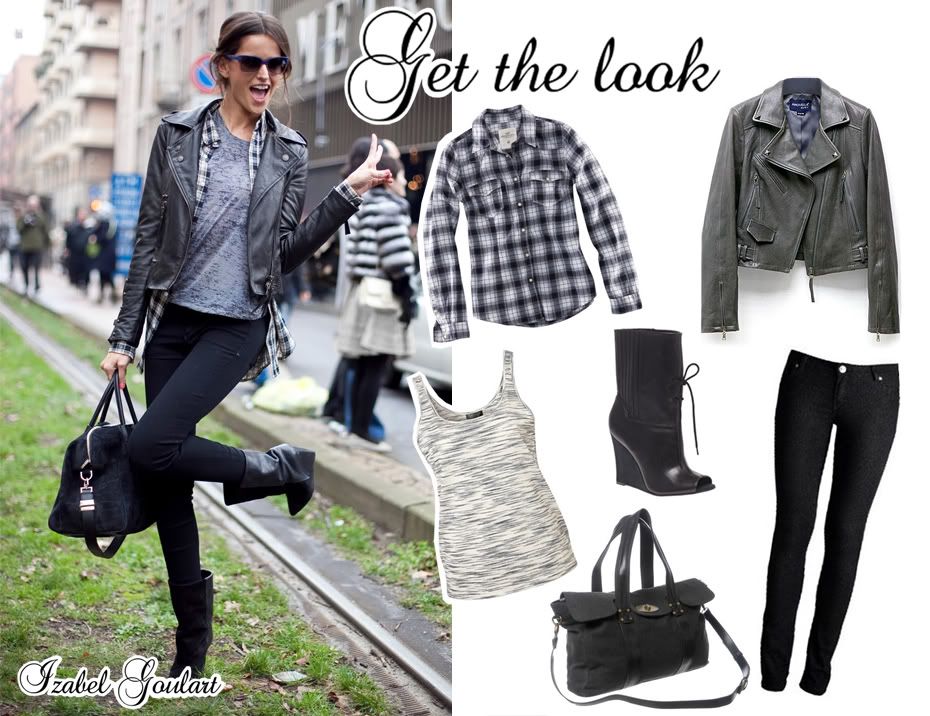 Shirt from H&M, tanktop from Topshop, leather jacket from eBay, wedge boots from ASOS Black, bag from Dixie & jeans from Fiveunits.
Jeg ved ikke om jeg nogensinde har fortalt det, men jeg blogger også for Rimmel London. Her laver jeg blandt andet "Get the look" indlæg og kom til at tænke på, at I måske også ville synes det var fedt her på bloggen? Jeg bliver ofte inspireret af street-style billeder og specielt af modeller spottet på gaden. Denne gang er det den tidligere Victoria's Secret Angel, Izabel Goulart, som jo ser forrygende ud med sin rå læderjakke og sorte jeans. Det er ofte detaljerne der gør forskellen, som f.eks. den spættede t-shirt og den ternede skjorte der titter ud.
I don't know if I have ever told you guys, but I also make blog posts for Rimmel London. Here I often make post on "how to get the look" and I thought that you might would appreciate that on my blog as well. Anyway, this is the former Victoria's Secret Angel, Izabel Goulart. I really love her laid back look! 
Source: modelsoffduty
I kender efterhånden pæne Nicoline, som har været på bloggen en del gange. I går var vi sammen og jeg syntes hun så så godt ud, at jeg var nødt til at forevige det og dele det med jer :) Jeg er ved at prøve at overtale hende til at starte en blog. Hehe.. Hendes jeans og hendes nye pink bluse er fra Zara, tasken er fra Stella McCartney, bæltet er fra Milium og skoene fra Chanel. Hav en dejlig aften derude!
Yesterday I spent with one of my best friends, Nicoline. She was wearing her new pink shirt from Zara, bag from Stella McCartney, shoes from Chanel and jeans from Zara. Have a great evening everyone!
peek
torsdag, 28 april 2011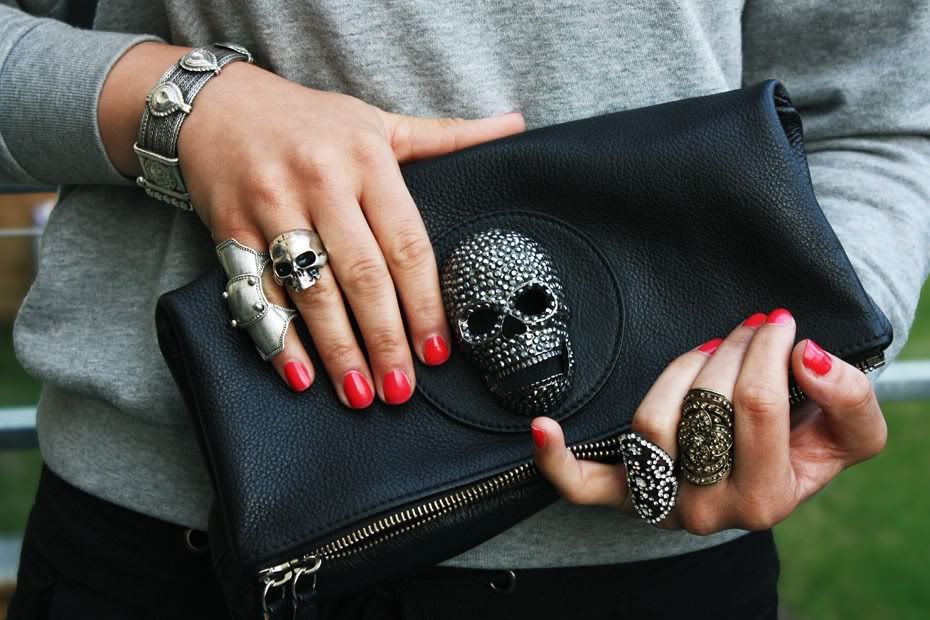 Senere i dag kan I få et smugkig ind i en af mine veninders fabelagtige garderobe. Her får I først et lille sneak peek på nogle af hendes mange smykker og misundelsesværdige clutch :)
Later today you'll have the chance to take a look at one of my friend's fabulous wardrobe.
To the top